I'm constantly amazed at just how much my training is influenced by the people on this site.
Whether you're looking for a new piece of equipment, an unusual exercise variation or just an idea of how others approach things, you'll enjoy these :
Over to you. I'd love to hear what you think : leave your comments on the above articles, and share them with your friends/colleagues/clients and so on.
NB : if you're keen to do a little fitness writing and would like to submit your own piece for Straight to the Bar, get in touch.
Video : The Ozempic Problem (Dr Karan)
We've discussed this offering several times in the past, so I'll simply say that this is a wonderful summary of things (and of weight-loss medications in general). Dive in.


Gymchat 278 – TBA
We're still finalising the details for this week's discussion. I'll post them on the blog (and Twitter, Facebook etc) shortly.
In the meantime, take a look at some of the previous episodes of the show – (there's an example below, and a full list here). And if you've got any questions or comments on the various topics discussed, we'd love to hear them. Just leave a note below the video.


Previously : In Gymchat 236 we discussed Programming for Strength vs Hypertrophy with Strength Coach Jason Paris, joined by Personal Trainer (and Strength Athlete) Josh Hewett. Great conversation.
And if you missed it the first time (or just want to go over a particular point again), check out the full video :
https://straighttothebar.com/2014/02/19/video_for_gymchat_236_-_programming_for_strength_vs_hypertrophy_jason_paris/ .


NB : If you'd like to take part in a future episode – either as an interviewee, or as a guest host – just drop us a line. Love hearing how everyone else trains.
Checking Out : Novamos S98 Actor (Smart Watch)
The smartwatch space continues to grow.
The Novamos S98 Actor is a customisable device with the typical array of fitness features. What's more, it looks nice and rugged – a side of things that I intend to test thoroughly.
As for the device itself, a spot of video :
The Novamos S98 Actor.
Ever Tried Kettlebells?
If you've seen people using them but never taken the plunge yourself, here are the ones I use personally. You can also pick up a book/DVD/course if you want to learn how to put them to work.
Tip of the Week : Planche Nugget
Each week we publish a number of tips and techniques via Twitter, the blog; and the newsletter. Wherever you are, there's always a way to improve what you're doing.
---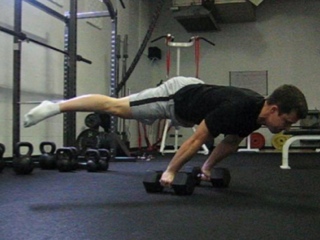 Noticed this nugget on the Bodyweight Culture Forums, in a discussion on the Planche :
The skill is very simple to describe but hard to do. Here we go:

Take the ab-wheel.
Get into a pushup position while holding an ab wheel.
Now instead of rolling it toward your head, roll it toward your feet and back.

If you can roll the wheel with straight arms down to the point where the wheel will touch your pubis (lower front of hipbone) and bring it back up to the pushup position, you should hurry and take Paul Hamm's spot in the Olympics.
Nice one.


ExerciseFeat Of The Week : Edyta Ropek Sets World Dyno Record



Via Get Outdoors : Polish climbing superstar Edyta Ropek has just broken the women's world dyno record. What's a dyno you ask? Dynamically jumping from one hold to another.
Very impressive stuff.


---
Incidentally, if you'd like to get in touch regarding this or any other aspect of strength, you can contact me here. Look forward to hearing from you.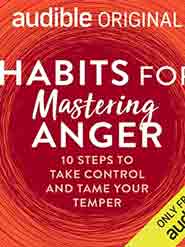 It'll come as no surprise that we discuss a lot of fitness-related books, courses & podcasts; on this site as well as the various networks noted in the sidebar.
We've noted a few of Dr Tim Sharp's podcasts in the past, and his latest offering – 'Habits for Mastering Anger: 10 Steps to Take Control and Tame Your Temper' takes a similar approach. Thorough, personal and extremely helpful.
If this is an area of concern, this is a highly recommended series. Dive in.
Incidentally, I'm always looking to add to the 'books to read' list. If you've come across something which you'd love everyone else to check out, drop me a line.
There's also a list of our all-time fitness suggestions over there. Dive on in.