I'm constantly amazed at just how much my training is influenced by the people on this site.
Whether you're looking for a new piece of equipment, an unusual exercise variation or just an idea of how others approach things, you'll enjoy these :

Gem From The Vault : DIY – Home-Made Gym Equipment
Scott Andrew Bird
Make one yourself.




Looking At : Mar 19, 2023
Scott Andrew Bird | follow @scottbird
What's been going on this week? Quite a lot actually.



Over to you. I'd love to hear what you think : leave your comments on the above articles, and share them with your friends/colleagues/clients and so on.
NB : if you're keen to do a little fitness writing and would like to submit your own piece for Straight to the Bar, get in touch.
Video : 10 Most Creative And Unique Grip Tools (Anton Fomenko)
Now this is a wonderful collection.
Gymchat 278 – TBA
We're still finalising the details for this week's discussion. I'll post them on the blog (
and Twitter, Facebook etc
) shortly. In the meantime, take a look at some of the previous episodes of the show – (
there's an example below, and a full list here
). And if you've got any questions or comments on the various topics discussed, we'd love to hear them. Just leave a note below the video.
Previously
: In
Gymchat 213 (Roundtable)
we discussed
How to get BIGGER and STRONGER
with
Josh Hewett, Suneet Sebastian, Louis Farone, Paul Marsland
and
Jason Paris
.
Great conversation
. And if you missed it the first time (
or just want to go over a particular point again
), check out the full video over on Josh's Youtube channel :
https://www.youtube.com/watch?v=c7N84tEREVM
.
NB
: If you'd like to take part in a future episode –
either as an interviewee, or as a guest host
– just
drop us a line
. Love hearing how everyone else trains.
Checking Out : HooKee (Fitness Device)
Interesting idea.
The
HooKee
is a rather unusual fitness device, covering a pretty wide range of exercises. Although as it only goes up to 100lb, it's definitely in the 'travel workout' camp. Or a spot of high-rep work. A spot of video :
The
HooKee
.
Ever Tried Kettlebells?
If you've seen people using them but never taken the plunge yourself, here are the ones I use personally. You can also pick up a book/DVD/course if you want to learn how to put them to work.
Tip of the Week : Using (and Making) a Fat Bar
Each week we publish a number of tips and techniques via
Twitter
,
the blog
; and the newsletter. Wherever you are, there's always a way to improve what you're doing. This tip comes to us from the obscenely strong
Max Shank
, in the form of a video from the article
The Fat Bar
. Take a look.
---
This video shows the bar in action. To read how it helps, and how to make one; head over to the article
The Fat Bar
. Nice one. Over to
Max
:
Good stuff.
Unlock Your Hips, Unlock Your Squat
I get a
lot
of questions regarding the impact of '
unlocking your hips
' on heavy squatting.
Rick Kaselj
goes into it in plenty of detail in the '
Unlock Your Hip Flexors
' program; and I've also posted a brief video below which demonstrates/explains some of the exercises.
Both (
working with Ryan, and Rick's program
) are highly recommended. And as always, we love hearing your feedback – if you sample any of the above exercises or the '
Unlock Your Hip Flexors
' program, we'd love to hear about it.
Exercise Tool Of The Week : Quick and Easy Forearm Exerciser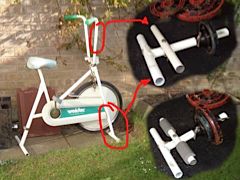 Pat Hodgson does it again
. This time it's a forearm exerciser that puts a disused bike to good use. Click the image for a larger photo to see how it all hangs together.
---
Incidentally, if you'd like to get in touch regarding this or any other aspect of strength, you can contact me
here
. Look forward to hearing from you.
It'll come as no surprise that we discuss a
lot
of fitness-related books, courses & podcasts; on this site as well as the various networks noted in the sidebar. Last week we looked at one aspect of climbing – focusing largely on Yosemite's 'El Capitan'. This one –
'Wild Rescues: A Paramedic's Extreme Adventures in Yosemite, Yellowstone, and Grand Teton'
– is a wonderful look at things from the other side of the fence – a paramedic's look at the types of medical rescues possible (and sadly, necessary) in such a remote environment. Wonderful. Incidentally, I'm always looking to add to the '
books to read
' list. If you've come across something which you'd love everyone else to check out,
drop me a line
. There's also a list of our
all-time fitness suggestions
over there. Dive on in.