I'm constantly amazed at just how much my training is influenced by the people on this site.
Whether you're looking for a new piece of equipment, an unusual exercise variation or just an idea of how others approach things, you'll enjoy these :

Looking At : Oct 9, 2022
Scott Andrew Bird | follow @scottbird
What's been going on this week? Quite a lot actually.



Over to you. I'd love to hear what you think : leave your comments on the above articles, and share them with your friends/colleagues/clients and so on.
NB : if you're keen to do a little fitness writing and would like to submit your own piece for Straight to the Bar, get in touch.
Video : Training With 7X Mr. Olympia Phil Heath (Will Tennyson)
How quickly and heavily should you be lifting? If hypertrophy's the goal, watch this video. Incredible advice.
Gymchat 278 – TBA
We're still finalising the details for this week's discussion. I'll post them on the blog (
and Twitter, Facebook etc
) shortly. In the meantime, take a look at some of the previous episodes of the show – (
there's an example below, and a full list here
). And if you've got any questions or comments on the various topics discussed, we'd love to hear them. Just leave a note below the video.
Previously
: In
Gymchat 180
we discussed
Arm Training
with
Olympic athlete, personal trainer and nutritionist Maik Wiedenbach
.
Great conversation
.
NB
: If you'd like to take part in a future episode –
either as an interviewee, or as a guest host
– just
drop us a line
. Love hearing how everyone else trains.
Checking Out : Portance (Smart Gym Clothing)
Looks great.
Portance
is a set of odorless, feature-laden clothing – designed solely for use in the gym. It's a great mix. A little video :
Portance
.
Ever Tried Kettlebells?
If you've seen people using them but never taken the plunge yourself, here are the ones I use personally. You can also pick up a book/DVD/course if you want to learn how to put them to work.
Tip of the Week : The Power of Naming Your Workouts
Each week we publish a number of tips and techniques via
Twitter
,
the blog
; and the newsletter. Wherever you are, there's always a way to improve what you're doing.
---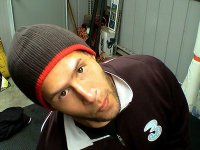 Here's a simple technique which greatly increases the potential of your workouts. Kira describes the full process in the article
Give Your Workout a Name!
, but here's a quick story to give you the basic idea :
A few years ago, a couple of young dudes I trained with (Muay Thai), wanted to do some extra conditioning work. I offered to take them on a run up Puke Hill on the weekends. After a few nervous side-glances, both of them asked, "Why is it called Puke Hill?" After striking a suitably melodramatic pose, I just smiled and then walked away. When they finally got to do the run, I noticed three distinct changes to the way they normally trained:

Intensity – It was the hardest I'd seen either of them train.
Team-work – When one of them almost gave up, the other one slowed down and ran beside his friend–helping him to complete the last set of sprints.
Accomplishment – After the run, neither whined or complained. In fact, despite their exhaustion, both had shit-eating grins plastered across their ugly faces.

Of course Puke Hill is just a hill. Sure it was steep, and using it for interval-sprints was quite challenging, but what hill sprints aren't challenging? So here's the point of my story: I believe that by simply giving the run a name, my two padawans trained harder, worked together better, and gained a greater sense of individual and shared achievement.
Good stuff.
Unlock Your Hips, Unlock Your Squat
I get a
lot
of questions regarding the impact of '
unlocking your hips
' on heavy squatting.
Rick Kaselj
goes into it in plenty of detail in the '
Unlock Your Hip Flexors
' program; and I've also posted a brief video below which demonstrates/explains some of the exercises.
Both (
working with Ryan, and Rick's program
) are highly recommended. And as always, we love hearing your feedback – if you sample any of the above exercises or the '
Unlock Your Hip Flexors
' program, we'd love to hear about it.
Exercise Of The Week : Elevated Glute-Ham Raises
GHR
s not enough of a challenge? Try holding a plate and tipping up the back of the
machine
. Lots of fun.
---
Incidentally, if you'd like to get in touch regarding this or any other aspect of strength, you can contact me
here
. Look forward to hearing from you.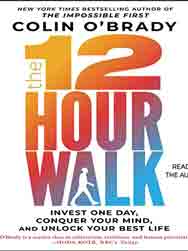 It'll come as no surprise that we discuss a
lot
of fitness-related books; on this site as well as the various networks noted in the sidebar. I first came across Colin via his recent
interview on Max Lugavere's 'The Genius Life' podcast
. Wonderful discussion. The conversation noted his book
'The 12 Hour Walk'
, which is absolutely fantastic. Strongly recommended.
NB
: both the abovementioned podcast and the book cover a few of the same ideas, and so one '
spoils
' the other in that regard. Personally, I'd check out the book first. Incidentally, I've got an evergrowing list of '
books to read
', and i'm always looking to add to it.
Suggestions welcome.
There's also a list of our
all-time fitness suggestions
over there. Dive on in.