I'm constantly amazed at just how much my training is influenced by the people on this site.
Whether you're looking for a new piece of equipment, an unusual exercise variation or just an idea of how others approach things, you'll enjoy these :

Looking At : Jul 24, 2022
Scott Andrew Bird | Follow @scottbird
What's been going on this week? Quite a lot actually.



Over to you. I'd love to hear what you think : leave your comments on the above articles, and share them with your friends/colleagues/clients and so on.
NB : If you're keen to do a little fitness writing and would like to submit your own piece for Straight to the Bar, get in touch.
Video : 6 Things I Do Every Day to Stay in Shape (Joe Delaney)
Good tips – my own list is fairly similar (
here's an old version
– it hasn't changed much in the intervening years). How about you –
anything you'd add?
Gymchat 278 – TBA
We're still finalising the details for this week's discussion. I'll post them on the blog (
and Twitter, Facebook etc
) shortly. In the meantime, take a look at some of the previous episodes of the show – (
there's an example below, and a full list here
). And if you've got any questions or comments on the various topics discussed, we'd love to hear them. Just leave a note below the video.
Previously
: In
Gymchat 169
we discussed
Recovery Foods
with
Triathlete & Pilot
Chas Melichar
, interviewed by
Personal Trainer Kirk Fontaine
.
Great conversation
.
NB
: if you'd like to take part in a future episode –
either as an interviewee, or as a guest host
– just
drop us a line
. Love hearing how everyone else trains.
Checking Out : hemVR (Virtual Environments For Indoor Cyclists)
Looks great.
The
hemVR
setup is a Virtual Reality combo (
both the eyewear and environments
), for use with an indoor cycle. And cardio machines in general, I suspect. Sounds ideal. To give you an idea of exactly what's on offer, a little video :
The
hemVR
.
Ever Tried Kettlebells?
If you've seen people using them but never taken the plunge yourself, here are the ones I use personally. You can also pick up a book/DVD/course if you want to learn how to put them to work.
Tip of the Week : It's Never Too Late to Start
Each week we publish a number of tips and techniques via
Twitter
,
the blog
; and the newsletter. Wherever you are, there's always a way to improve what you're doing.
---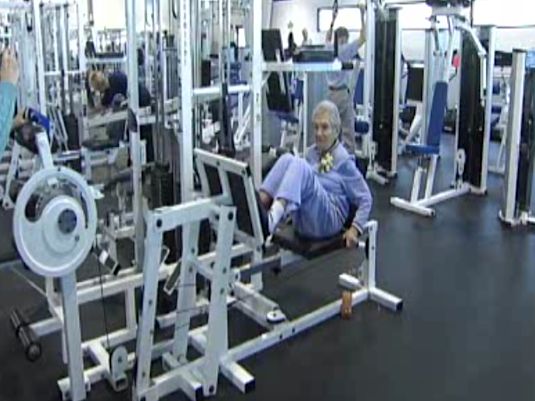 We'll be discussing this in a lot more detail in an upcoming Gymchat (
and if you'd like to be involved, let me know
); the idea of starting your strength-training well into your senior years.
We've looked at a number of older athletes over the years (
for an idea of how many there are, just take a glance at the 'still got it' tag on the blog
), and this quote sums up my thinking perfectly.
From the post '
Exercise in Healthy Older Adults
' :
Age is not a contraindication to exercise, which can usually be initiated safely in older persons.
In short, it's never too late to start.
Unlock Your Hips, Unlock Your Squat I get a lot of questions regarding the impact of 'unlocking your hips' on heavy squatting. Rick Kaselj goes into it in plenty of detail in the 'Unlock Your Hip Flexors' program; and I've also posted a brief video below which demonstrates/explains some of the exercises.
Both (working with Ryan, and Rick's program) are highly recommended. And as always, we love hearing your feedback – if you sample any of the above exercises or the 'Unlock Your Hip Flexors' program, we'd love to hear about it.
Exercise of the Week : Reaching Push-Up

I love coming across new exercises, or re-discovering older ones. Yesterday I watched an old show on Jackie Chan's stunt training, and noticed a push-up variation that doesn't seem to get much attention : the Reaching Push-Up (pictured). Simply move your hands out in front of your body and perform push-ups as normal. As with the ab rollout (if using the full ROM), this push-up variation places more stress on the lower back; whilst giving the abs and shoulders a little more to think about. Very unusual.


---

Incidentally, if you'd like to get in touch regarding this or any other aspect of strength, you can contact me here. Look forward to hearing from you.


It'll come as no surprise that we discuss a lot of fitness-related books; on this site as well as the various networks noted in the sidebar. Patient Zero: A Curious History of the World's Worst Diseases is a fascinating look at the origins and causes of a range of widespread epidemics and pandemics. Highly recommended. Incidentally, I've got an evergrowing list of 'books to read', and I'm always looking to add to it. Suggestions welcome. There's also a list of our all-time fitness suggestions over there. Dive on in.