I'm constantly amazed at just how much my training is influenced by the people on this site.
Whether you're looking for a new piece of equipment, an unusual exercise variation or just an idea of how others approach things, you'll enjoy these :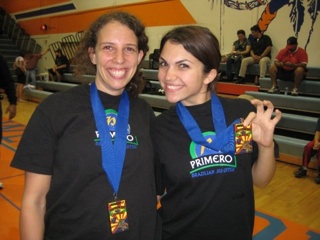 Gem From The Vault : Double Kettlebell Workouts – For the Best of Both Worlds
Yael Grauer (Yael Writes)
It sometimes takes two.




Looking At : Apr 24, 2022
Scott Andrew Bird | Follow @scottbird
What's been going on this week? Quite a lot actually.



Over to you. I'd love to hear what you think : leave your comments on the above articles, and share them with your friends/colleagues/clients and so on.
NB : If you're keen to do a little fitness writing and would like to submit your own piece for Straight to the Bar, get in touch.
Video : I Trained Crossfit For 30 Days Straight (Ben Polson)
Very interesting take on the
CrossFit
training approach.
Gymchat 278 – TBA
We're still finalising the details for this week's discussion. I'll post them on the blog (
and Twitter, Facebook etc
) shortly. In the meantime, take a look at some of the previous episodes of the show – (
there's an example below, and a full list here
). And if you've got any questions or comments on the various topics discussed, we'd love to hear them. Just leave a note below the video.
Previously
: In
Gymchat 152
we discussed
Leg Training
with Olympic Athlete / Bodybuilder / Personal Trainer
Maik Wiedenbach
, interviewed by
Personal Trainer Kirk Fontaine
. Great conversation.
NB
: if you'd like to take part in a future episode –
either as an interviewee, or as a guest host
– just
drop us a line
. Love hearing how everyone else trains.
Checking Out : HindSight 2 (Rear-View Cycling Glasses)
Great idea.
The
HindSight 2
is the second generation of the rear-view glasses for cyclists. Essentially sunglasses with mirrored lenses at the sides, so you can quickly see what's happening behind you. Same as a car, motorbike or bus. Very interesting offering. A little video :
The
HindSight 2
.
Ever Tried Kettlebells?
If you've seen people using them but never taken the plunge yourself, here are the ones I use personally. You can also pick up a book/DVD/course if you want to learn how to put them to work.
Tip of the Week : Buying a Power Rack – Determining the width you'll need.
Each week we publish a number of tips and techniques via Twitter, the blog; and the newsletter. Wherever you are, there's always a way to improve what you're doing.
This tip comes to us following a discussion I had over the weekend (I was helping a friend choose a power rack), and is a snippet from the article 'Buyers' Guide : the Power Rack'. Determining the width you'll need.
---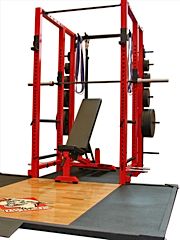 Although the width of a barbell never changes (within one type, that is – standard bars are about a foot shorter than their Olympic counterparts), the width of racks vary from brand to brand. The rack's minimum width will depend largely on what you're going to do with it.
Sumo squats and rack pulls will take the most room; somewhere around 40″ would be an absolute minimum, but your best bet is to measure your own squat (outside one foot to outside the other).
If you intend to bench press in the rack, or use the bench as a seat for other exercises (such as the overhead work I mentioned earlier), make sure the bench fits. If you're buying them both at the same time, great. Test them out.
One more thing to note with the bench inside the rack – if you plan to use dumbbells from the bench, make sure there's plenty of room to drop the dumbbells once they get heavy. Oh, and something to protect the floor (in the drop zone) is always a good idea – a couple of rubber mats will do nicely.


Good stuff.


Unlock Your Hips, Unlock Your Squat I get a lot of questions regarding the impact of 'unlocking your hips' on heavy squatting. Rick Kaselj goes into it in plenty of detail in the 'Unlock Your Hip Flexors' program; and I've also posted a brief video below which demonstrates/explains some of the exercises.
Both (working with Ryan, and Rick's program) are highly recommended. And as always, we love hearing your feedback – if you sample any of the above exercises or the 'Unlock Your Hip Flexors' program, we'd love to hear about it.
Exercise of the Week : Plate See Saw

John Brookfield's latest Grip Tip (on the Ironmind site) is definitely one of the better ones. Incredibly simple (just pick up a plate and go), and more difficult than you might imagine. Good fun.


---

Incidentally, if you'd like to get in touch regarding this or any other aspect of strength, you can contact me here. Look forward to hearing from you.


It'll come as no surprise that we discuss a lot of fitness-related books; on this site as well as the various networks noted in the sidebar. Able: Gold Medals, Grand Slams and Smashing Glass Ceilings is Dylan Alcott's wonderful autobiography – looking at both his life story and the athletic side of things. Great read. Incidentally, I've got an evergrowing list of 'books to read', and I'm always looking to add to it. Suggestions welcome. There's also a list of our all-time fitness suggestions over there. Dive on in.