I'm constantly amazed at just how much my training is influenced by the people on this site.
Whether you're looking for a new piece of equipment, an unusual exercise variation or just an idea of how others approach things, you'll enjoy these :
Over to you. I'd love to hear what you think : leave your comments on the above articles, and share them with your friends/colleagues/clients and so on.
NB : If you're keen to do a little fitness writing and would like to submit your own piece for Straight to the Bar, get in touch.
Video : What Michael Pollan Learned from Quitting Caffeine for 3 Months (Michael Pollan & Joe Rogan)
This is a fascinating insight into the origins of caffeinated drinks, their various effects, and the result of quitting them entirely for 3 months. Incidentally, the book he mentions –
This Is Your Mind on Plants
– is also highly recommended. Fantastic read.
Gymchat 278 – TBA
We're still finalising the details for this week's discussion. I'll post them on the blog (
and Twitter, Facebook etc
) shortly. In the meantime, take a look at some of the previous episodes of the show – (
there's an example below, and a full list here
). And if you've got any questions or comments on the various topics discussed, we'd love to hear them. Just leave a note below the video.
Previously
: In
Gymchat 246
we discussed
The Pursuit of a HUGE Deadlift
, with
Strongman and Strength Coach
Craig Bongelli
, together with
Personal Trainer (and Strength Athlete) Josh Hewett
. Great conversation.
If you missed the live stream (
or just want to go over a particular point again
), you'll find
the entire video here
.
NB
: if you'd like to take part in a future episode –
either as an interviewee, or as a guest host
– just
drop us a line
. Love hearing how everyone else trains.
Ever Tried Kettlebells?
If you've seen people using them but never taken the plunge yourself, here are the ones I use personally. You can also pick up a book/DVD/course if you want to learn how to put them to work.
Checking Out : Steel Mace Yoga 101 (Training Program)
Interesting combination.
Steel Mace Yoga 101
is a training program featuring strength-training coach, Erin Furry. Combining yoga practice with a little Mace work, it's certainly an unusual approach to things. Still, it's an intriguing one – particularly as a replacement for some of your own training, or an addition. Either way, here's what the course includes :
10 fundamental exercises including a warmup and cool down
Movement patterns designed to build strength, maintain mobility and improve flexibility
14-day training protocol that can be customized and practiced all year long
Access to the TACFIT online Academy
And yes, it's a fully digital product. Perfect – particularly given the current state of things.
NB
: I suspect many of you already have a Mace at your disposal. If not, I highly recommend the
RMAX Clubbells
. Great things.
Steel Mace Yoga 101 With Erin Furry
.
Tip of the Week : It's Never Too Late to Start
Each week we publish a number of tips and techniques via Twitter, the blog; and the newsletter. Wherever you are, there's always a way to improve what you're doing.
---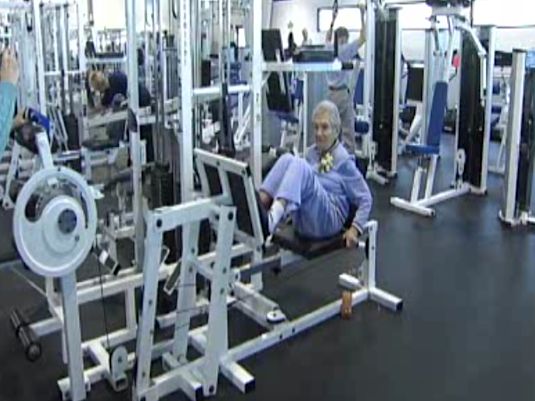 We'll be discussing this in a lot more detail in an upcoming Gymchat (and if you'd like to be involved, let me know); the idea of starting your strength-training well into your senior years.


We've looked at a number of older athletes over the years (for an idea of how many there are, just take a glance at the 'still got it' tag on the blog), and this quote sums up my thinking perfectly.


From the post 'Exercise in Healthy Older Adults' :
Age is not a contraindication to exercise, which can usually be initiated safely in older persons.


In short, it's never too late to start.


Unlock Your Hips, Unlock Your Squat I get a lot of questions regarding the impact of 'unlocking your hips' on heavy squatting. Rick Kaselj goes into it in plenty of detail in the 'Unlock Your Hip Flexors' program; and I've also posted a brief video below which demonstrates/explains some of the exercises.
Both (working with Ryan, and Rick's program) are highly recommended. And as always, we love hearing your feedback – if you sample any of the above exercises or the 'Unlock Your Hip Flexors' program, we'd love to hear about it.
Exercises of the Week : Mongolian Wrestling

Wrestlers sizing up in Ulaanbaatar's Naadam Festival.


---

Incidentally, if you'd like to get in touch regarding this or any other aspect of strength, you can contact me here. Look forward to hearing from you.