I'm constantly amazed at just how much my training is influenced by the people on this site.
Whether you're looking for a new piece of equipment, an unusual exercise variation or just an idea of how others approach things, you'll enjoy these :
Over to you. I'd love to hear what you think : leave your comments on the above articles, and share them with your friends/colleagues/clients and so on.
NB : If you're keen to do a little fitness writing and would like to submit your own piece for Straight to the Bar, get in touch.
Video : Only One Man Knows Who Climbed Everest First and We Can't Find Him (Thoughty2)
Fascinating look into the possibility of George Mallory being the first to summit Everest.
Gymchat 278 – TBA
We're still finalising the details for this week's discussion. I'll post them on the blog (
and Twitter, Facebook etc
) shortly. In the meantime, take a look at some of the previous episodes of the show – (
there's an example below, and a full list here
). And if you've got any questions or comments on the various topics discussed, we'd love to hear them. Just leave a note below the video.
Previously
: In
Gymchat 237
we discussed
Old-Time Strongman Training
, with
'Physical Culture Renaissance Man' Logan Christopher
, joined by
Personal Trainer (and Strength Athlete) Josh Hewett
. Great conversation.
If you missed the live stream (
or just want to go over a particular point again
), you'll find
the entire video here
.
NB
: if you'd like to take part in a future episode –
either as an interviewee, or as a guest host
– just
drop us a line
. Love hearing how everyone else trains.
Ever Tried Kettlebells?
If you've seen people using them but never taken the plunge yourself, here are the ones I use personally. You can also pick up a book/DVD/course if you want to learn how to put them to work.
Checking Out : The BGR (Suspension System)
Looks great.
The
BGR (Bars Grips Rings)
is a suspension system which combines the usual straps with rings and a chinning bar. A little video will show you what I mean :
Perfect for travel workouts, or any time you're without either rings or a chin-up bar. The
BGR (Bars Grips Rings)
.
Tip of the Week: Becoming Aware of Your Transverse Abdominis
Each week we publish a number of tips and techniques via Twitter, the blog; and the newsletter. Wherever you are, there's always a way to improve what you're doing.
---
There's an awful lot more to abdominal work than exercises like the humble crunch. Everything from Louie's infamous 'Stand-Up Abs' to the many, many varieties of the squat.
Before doing any of that, however, it helps to understand a little about the various muscles being worked. For that, it's over to Kat 'The Mighty Kat' Ricker.
For starters, from Kat's superb article Specific Training for the Transverse Abdominis: Belt It In, here's a quick way to learn to feel what your TA is doing :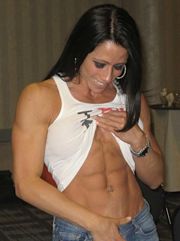 Begin by becoming aware of this muscle. Sit upright on a bench. Have a partner face you, place both of his hands on your shoulders, and gently push you backward (gently!). Your goal is to maintain your upright position, not allowing your spine to extend/your back to arch. Your TA will kick in to achieve your goal.


Good stuff.


Unlock Your Hips, Unlock Your Squat I get a lot of questions regarding the impact of 'unlocking your hips' on heavy squatting. Rick Kaselj goes into it in plenty of detail in the 'Unlock Your Hip Flexors' program; and I've also posted a brief video below which demonstrates/explains some of the exercises.
Both (working with Ryan, and Rick's program) are highly recommended. And as always, we love hearing your feedback – if you sample any of the above exercises or the 'Unlock Your Hip Flexors' program, we'd love to hear about it.
Exercises of the Week : Westside Basics



Via MarkFu : Another couple of superb videos (first one above, second one here) from Johnny Mnemonic, the guy behind the Squat RX series. Enjoy.
---
Incidentally, if you'd like to get in touch regarding this or any other aspect of strength, you can contact me
here
. Look forward to hearing from you.