I'm constantly amazed at just how much my training is influenced by the people on this site. Whether you're looking for a new piece of equipment, an unusual exercise variation or just an idea of how others approach things, you'll enjoy these :
Over to you. I'd love to hear what you think : leave your comments on the above articles, and share them with your friends/colleagues/clients and so on.


NB : If you're keen to do a little fitness writing and would like to submit your own piece for Straight to the Bar, get in touch.
Video : Invention Factory – How Will Mind Overcome Matter?



Very interesting series.
Gymchat 277 – TBA
We're still finalising the details for this week's discussion. I'll post them on the blog (and Twitter, Google+ etc) shortly.
In the meantime, take a look at some of the previous episodes of the show – (there's an example below, and a full list here). And if you've got any questions or comments on the various topics discussed, we'd love to hear them. Just leave a note below the video.


Previously : In Gymchat 253 we discussed Improving Recovery & Performance (with New Warrior Training Systems' Sincere Hogan, joined by Strongman & Personal Trainer Josh Hewett). Great conversation.
If you missed the live stream (or just want to go over a particular point again), you can watch the entire video here.


NB : if you'd like to take part in a future episode – either as an interviewee, or as a guest host – just drop us a line. Love hearing how everyone else trains.
Tip of the Week: When Possible, Buy Meat Locally
Each week we publish a number of tips and techniques via Twitter, Google+, the blog; and now the newsletter. Wherever you are, there's always a way to improve what you're doing.
---
In the article Fight Fat With CLA from eVitamins, Derek noted the value of getting some quality meat in your diet. One of the key factors is to keep an eye out for things like 'grass-fed beef'; another is to purchase from local sources whenever possible.
Jeff Marraccini explains :
Scott, I also look for local sources. Even grass-fed meat coming from far away likely has more risk of being exposed to excessive heat, cold, or other environmental conditions. Unfortunately, it is not always possible so I have to compromise from time to time.
Great point.


Re-Reading : Jim Stoppani's Encyclopedia of Muscle & Strength (2nd Edition)
Great book.
We first looked at this one a while ago, and a conversation on the weekend had me pulling it from the shelves once again. The 2nd Edition of Jim Stoppani's Encyclopedia of Muscle & Strength.
The title gives you a general idea, and a couple of brief comments will help fill in the gaps :


Readers will appreciate the combination of plain facts and expert advice. Anyone looking to build muscle mass will appreciate this thorough, no-nonsense guide to proper strength-training technique.
The book is very well written, and provides a complete, precise set of tables throughout the chapters that allow the novice or advanced bodybuilder or strength athlete to start using proven exercises/techniques to improve their appearance and/or performance. The "Rating" matrices of Time/Length/Difficulty/Results alone were, for me, worth the price of the book.
Jim Stoppani's Encyclopedia of Muscle & Strength. Good stuff.


---
Quick update on the Hip Thruster we mentioned recently – fantastic thing.
Rather than trying to explain how it works, here it is in action :



Good stuff Bret, looks great.


Exercise of the Week : Overhead Keg Toss



The Overhead Keg Toss. Good fun.


---
Incidentally, if you'd like to get in touch regarding this or any other aspect of strength, you can contact me here. Look forward to hearing from you.


Want to Guest Host a Gymchat?
I love the Gymchats – great show. Fantastic to hear how everyone trains.
To help uncover even more, I'd like to extend an invitation. For you to act as a Guest Host, and interview someone you know about their own workouts & competitions. Whether that's a work colleague, training partner or just someone you know who likes to lift.


If you'd like to Guest Host an episode or two of the show, let me know. And if you haven't watched any yet and would like to see what they're all about, there's a full list here. Cheers.


Images of Strength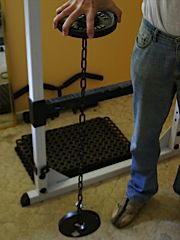 As you might expect, we love seeing training-related photographs. Pics of your home gym, DIY equipment, workouts, diet or competitions – it's all fantastic.
If you've got an image or three that you'd love to share with a strength-focussed audience, just upload them to Flickr/Instagram/SmugMug and send us the link. Cheers.



Straight to the Bar Strength Calendar
Taking part in, helping out with or going to watch an upcoming strength competition?
Tell us about it.


Kettlebell Exercise Demonstrations & Tutorials
We've looked at a lot of kettlebell exercises and variations over the years – in the form of tips, tutorials and demonstrations.
Where do you find them all? Right here – a complete list of Kettlebell Exercise Demonstrations & Tutorials.
Enjoy.


Giving
If you've been training for a while, gradually cleaning up your diet, no doubt you've experienced the amazing power of transformation. It's a tremendous feeling.
If you're ready to give someone else a hand to transform their own lives – through education, sharing equipment, financial help – take a look at the full list of organisations on the Giving page. Cheers.