I'm constantly amazed at just how much my training is influenced by the people on this site. Whether you're looking for a new piece of equipment, an unusual exercise variation or just an idea of how others approach things, you'll enjoy these :
Over to you. I'd love to hear what you think : leave your comments on the above articles, and share them with your friends/colleagues/clients and so on.


NB : If you're keen to do more writing in 2014 and would like to submit your own piece for Straight to the Bar, here's how.
Video : High Intensity, Low Rep Calisthenics


Good stuff. Great exercises, and I love the overall idea.


Gymchat 236 – Programming for Strength vs Hypertrophy (Jason Paris)
How do you train to maximise strength, rather than size? You'll always achieve a certain amount of each; but how do you focus on one or the other?
This week we'll be discussing this area in detail, explaining exactly how to prioritise either one – or train for a mix of the two. Tackling this is Strength Coach Jason Paris, joined by Personal Trainer (and Strength Athlete) Josh Hewett. Fantastic.


If you've got questions/comments for Jason or Josh, just swing by the event page for this Gymchat. And if you'd like to point your friends/colleagues to the discussion, just use the 'share' button at the top of that page. The more the merrier.


Details –
Who : Strength Coach Jason Paris, joined by Personal Trainer (and Strength Athlete) Josh Hewett
Topic : Programming for Strength vs Hypertrophy
When : Wednesday Feb 19, 9:00pm EDT (the Event page shows what time that is in your local timezone).
How : Watch the live stream, and ask questions, directly on the Event page. We'll also post the full video shortly after the Gymchat.


See you there.


Previously : In Gymchat 235 we discussed Supplementation for Focus & Stress Relief (with Examine.com's own Kurtis Frank and Personal Trainer (and Strength Athlete) Josh Hewett). Great conversation.
If you missed the live stream (or just want to go over a particular point again), you can watch the entire video here.


Tip of the Week: Steel Bending Benefits – Increased Neural Strength
Each week we publish a number of tips and techniques via Twitter, Google+, the blog; and now the newsletter. Wherever you are, there's always a way to improve what you're doing.
This tip comes to us from 'Unbreakable' Adam Glass' superb article Why Bend Steel?; and looks at just one of the great benefits of a regular dose of steel bending. Increased Neural Strength.
---
Over to Adam :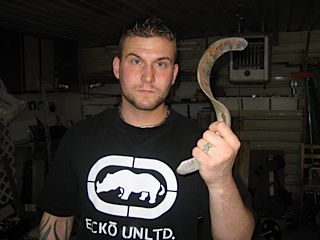 First benefit is to your neural strength: Steel bending is an exceptional way to build your single unit application of tension. What I mean is this – you have to tense and load every muscle in your body, take out all "leakages", brace everything together and direct it through you hands with a sniper's precise angle. If you get sloppy punching on the nails ends, you will hurt yourself. You could possibly punch yourself in the face, roll your hands out of the groove, stab yourself, or any other combination of less desirable outcomes. This activity will turn your wrist to stone. Your ability to direct power will be significantly increased. This will directly carry over to any other strength-skill you currently have. The way I load up to bend a Huge Stainless Steel Bastard is exactly the same feeling as when I load up to pull a max dead, to press a 48kg bell, or to slam an axe through a log. It adds a critical power appliance to your "strength skill tool box".
This increase in strength and power naturally will carry over to an increase in your endurance. Anyone who has bent a nail will tell you the first time they bent it was so tiring. I have watched people sweat bullets bending their first respectable nail. As time goes on you gain huge reserves of power. A personal testament to this level of power for me was October 2007 when I bent 150 60D nails in one hour using the double under (DU) grip. That represented a massive improvement from Jan 2007, when bending 10-15 nails left my hands extremely fatigued.


Good stuff.


Checking Out : My Own Supplement Regime
Time to re-evaluate.
A few of the recent Gymchats (especially 214 and 235) – as well as a conversation I had over the weekend – have convinced me to take another look at my own supplement regimes. Details shortly, but suffice to say there'll likely be a few changes involved. As well as a couple of additions, of course.
In the meantime – what's your own supplementation regime like? What do you currently take, and why?


---
Quick update on the Hip Thruster we mentioned recently – fantastic thing.
Rather than trying to explain how it works, here it is in action :

Good stuff Bret, looks great.


Exercise of the Week : The Voyer Shrug
A new shrug variation? Perfect.

---
Incidentally, if you'd like to get in touch regarding this or any other aspect of strength, you can contact me here. Look forward to hearing from you.


Kettlebell Exercise Demonstrations & Tutorials
We've looked at a lot of kettlebell exercises and variations over the years – in the form of tips, tutorials and demonstrations.
Where do you find them all? Right here – a complete list of Kettlebell Exercise Demonstrations & Tutorials.
Enjoy.


A Daily Dose
Love this stuff? Same here. If you're looking for a daily dose of strength-training goodness, grab the Straight to the Bar Daily.
Absolutely free.


Free Downloads from the Strength Kit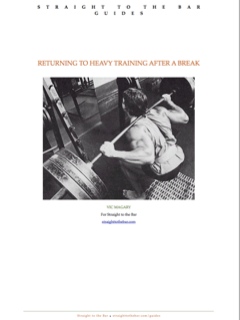 I recently added a number of resources to the Straight to the Bar Strength Kit, and as a Strength & Fitness Newsletter subscriber you're more than welcome to download as many of them as you like. Several great eBooks, podcasts and videos – all absolutely free.
Just head over here, save them to your hard-drive, and dive in.
Good stuff.


NB : This is an ever-changing list. If you'd like to put your own work in front of a fantastic strength-focussed audience, let me know.


Giving
If you've been training for a while, gradually cleaning up your diet, no doubt you've experienced the amazing power of transformation. It's a tremendous feeling.
If you're ready to give someone else a hand to transform their own lives – through education, sharing equipment, financial help – take a look at the full list of organisations on the Giving page. Cheers.