This Week on Straight to the Bar
I'm constantly amazed at just how much my training is influenced by the people on this site. Whether you're looking for a new piece of equipment, an unusual exercise variation or just an idea of how others approach things, you'll enjoy these :
Over to you. I'd love to hear what you think : leave your comments on the above articles, and share them with your friends/colleagues/clients and so on.
NB : If you'd like to submit your own piece for Straight to the Bar, here's how.
Video : Deadlifting – Take the Slack Out of the Bar
Over on the Diesel Strength site, Powerlifter Jesse Burdick shares a very interesting idea : when performing the deadlift, take the 'slack' out of the bar. Good stuff.
Gymchat 179 – Interval Training
There are many, many ways to get your sweat on. Not to mention recycling the air in the room.


One of the most popular – particularly when it comes to conditioning work – is some form of Interval Training. Running, punching, skipping and so on.
Of course, there's a lot more to it than simply adjusting the length of your rest breaks. This week we're exploring interval work of all kinds; what it is and how to make it work for you.
Helping us explore this fascinating topic is none other than the Cube Dweller Fitness Guy himself, Troy Pesola. Fantastic.


Details –
Who : The Cube Dweller Fitness Guy, Troy Pesola
Topic : Interval Training
When : Wed Jul 25, 9pm EDT (here's how to find out when that is in your timezone)
How : Post a comment, question or reply
Link : https://plus.google.com/u/0/113406428532094481598/posts/igTZeb2NJmE
For everyone who's joining us for their first Gymchat, welcome. Just dive right in, and ask Troy any training-related questions you like.
See you there.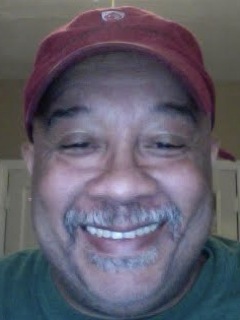 Quick update on last week's gymchat : Thanks once again to everyone who took part in the discussion : Exercise and the Brain. Some superb ideas in there.
For those who missed out on the conversation, here's the transcript. Was a great one.


Tip of the Week: Addressing Squat Weaknesses – Bending at the Knees First
Each week we publish a number of tips and techniques via twitter, Google+, the forums, the blog; and now the newsletter. Wherever you are, there's always a way to improve what you're doing.
---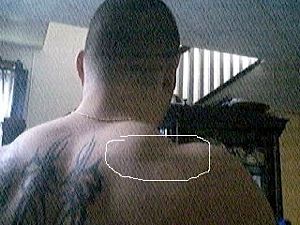 When it comes to the squat, Powerlifter Rick Walker clearly knows what he's talking about.
If you've ever tackled this wonderful exercise yourself and felt that your form just didn't feel quite right, check out his article Addressing Weaknesses in The Squat. To give you an idea of what it's all about, here's how he corrects one of the more common problems found in squat technique – the simple act of Bending at the Knees First.
Over to Rick.
This is a common problem among many beginning squatters as the lifter is usually afraid of falling backwards with the weight. Instead of sitting back first, the lifter will bend at the knees to go down. This causes the knees to go forward well over the toes and often times causes the lifter to go up onto their toes in the hole. This is not only dangerous, but you are limiting how much you can squat. The pressure on the patellar tendons in this position is tremendous and leads to big time problems down the road.
Yes, some lifters, especially Olympic lifters, can adapt to these kinds of stresses from having their knees that far forward.
However, the goal here is to improve the squat and move more weight, and that will be accomplished by sitting back into the squat.

How to fix it

The lifter must learn to sit back and not down. This can take a long time to get them to do, and even longer to get them to do it under maximum loads. I start all newbie squatters on a box.
I use a very high box and a very light load, usually the empty bar with some light JumpStretch© bands attached for tension. The basic commands I give are for the lifter to sit back like he is searching for a chair that is behind him. Once the lifter can get down to the high box by sitting back, I lower it an inch and start all over. Eventually the lifter will be able to sit back to a parallel box and the movement will become second nature.
Another possible reason for the lifter's inability to sit back is hamstring strength. If the lifter has weak hamstrings, he won't be able to sit back into a squat without falling. It gets much worse as the weight increases. To address this, get the lifter on the glute-ham machine pronto!
This is the best way to bring up lagging hamstrings and prepare the lifter for handling more weight in the squat correctly. I have also found Romanian Deadlifts and reverse hypers to be effective for improving the sit back portion of the squat.
And yes, I can assure you that it works. Cheers, Rick.


Checking Out : Resilience Breathing
Powerful techniques.
If you ever find yourself in any sort of stressful situation (physical or mental), you need this. In Resilience Breathing, Sonnon outlines a series of breathing techniques to help you counterract that stress, and regain control. They really do make a huge difference.
And the best part? The entire package is absolutely free.
Beautiful.


Quick update on the superb Fixing Elbow Pain we mentioned recently. There's a full review here, but suffice to say that if you've ever experienced conditions like Tennis Elbow or Golfer's Elbow, it's essential reading.
Love it.


Exercise of the Week : Korean Dips
Love bodyweight exercises? Here's an unusual dip variation you might like to try – the Korean Dip. Good fun.


NB : if you enjoy the occasional dip variation such as this, here are a few more you might like to experiment with.
---
Incidentally, if you'd like to get in touch regarding this or any other aspect of strength, you can contact me here. Look forward to hearing from you.


Kettlebell Exercise Demonstrations & Tutorials
Suffice to say that we've looked at a lot of kettlebell exercises and variations over the years – in the form of tips, tutorials and demonstrations.
Where do you find them all? Right here – a complete list of Kettlebell Exercise Demonstrations & Tutorials.
Enjoy.


Free Downloads from the Strength Kit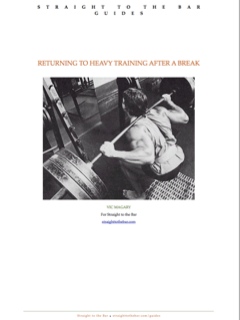 I recently added a number of resources to the Straight to the Bar Strength Kit, and as a Strength & Fitness Newsletter subscriber you're more than welcome to download as many of them as you like. Several great eBooks, podcasts and videos – all absolutely free.
Just head over here, save them to your hard-drive, and dive in.
Good stuff.


NB : This is an ever-changing list. If you'd like to put your own work in front of a fantastic strength-focussed audience, let me know.