This Week on Straight to the Bar
I'm constantly amazed at just how much my training is influenced by the people on this site. Whether you're looking for a new piece of equipment, an unusual exercise variation or just an idea of how others approach things, you'll enjoy these :
Over to you. I'd love to hear what you think : leave your comments on the above articles, and share them with your friends/colleagues/clients and so on.
NB : If you'd like to submit your own piece for Straight to the Bar, here's how.
Video : Self-Adminstered Supraspinatus Static Release
Chris pointed to this one over on Google+ : one in a series of great videos on Self-Administered Static Release. Good stuff.



Gymchat 169 – Recovery Foods
When you've pushed your body to the limit, how do you recover?


This week we're taking a look at another piece of the recovery puzzle, food. The things that cause the varying levels of soreness following your workouts/competitions/races, and how to minimise their effects through targeted nutrition. What to consume, when and in which forms.
Helping us explore this fascinating topic is none other than ultrarunner, airline captain and insanely competitive triathlete, Chas Melichar. Fantastic.


Details –
Who : Ultrarunner, airline captain and insanely competitive triathlete, Chas Melichar
Topic : Recovery Foods
When : Wed May 16, 9pm EDT (here's how to find out when that is in your timezone)
How : Post a comment, question or reply
Link : https://plus.google.com/u/0/113406428532094481598/posts/4S1KX1YKvJr
If you've never been to one of these discussions before, here's how to join in the fun. Simple, quick to set up and free.
For everyone who's joining us for their first Gymchat, welcome. Just dive right in, and ask Chas any nutrition-related questions you like.
See you there.


Quick update on last week's gymchat : Thanks once again to everyone who took part in the discussion : Workout Nutrition II. Some superb ideas in there.
For those who missed out on the conversation, here's the transcript. Was a great one.


NB : if you'd like to add a fitness-related event (either a competition you're taking part in, or something you're helping to organise there), just login to the forums and add it to the calendar. Cheers.


The Hunt for Broken Links
Straight to the Bar has been around for more than 8 years now, and there are a lot of articles/videos/photos/reviews to say the least. Nearly 6,000 in fact (there's a full list here).
Unfortunately, this number also means there's inevitably a video that's no longer available, or a link to a site which has just moved. Whatever it is, I'm always looking to fix it as quickly as possible.


To help me find the problems : if you spot something that isn't quite working right – a video that's been removed, or a link that no longer works – let me know. Leave a comment, or send me a message on Google+, Twitter or Facebook (all of the details here). As a bonus, you'll receive a selection of strength-training goodness shortly afterward. Not to mention my eternal gratitude.
Thank-you.


Tip of the Week: Dynamic thumb training with the Titan's Telegraph Key
Each week we publish a number of tips and techniques via twitter, Google+, the forums, the blog; and now the newsletter. Wherever you are, there's always a way to improve what you're doing.
---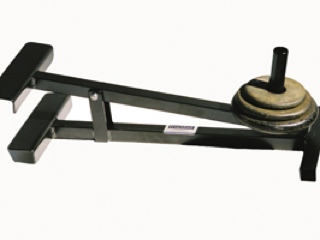 I love a dose of grip work; it's a great way to challenge yourself. It's also a particularly fun way to train.
Still, there's always a different way of looking at things. Here's an excellent example of that – Jedd shows just how a piece of equipment like the TTK can be put to a slightly uncommon use. I'll let him explain.


From the article Getting the Most out of Your TTK :
Thumb training can be broken up into at least four different types: Dynamic, Static, and Extensor, and Multi-Planar.
The focus of this article will be Dynamic thumb training with the Titan's Telegraph Key, or TTK.
One way to mix things up a bit is to make the Range of Motion longer by adding something underneath the finger-side handle. A catalog is a perfect choice for this. This makes the hand work through a longer range of motion the muscles are not used to. The first time I did this, I was sore for several days from the new stimulus. This technique has worked great for me in my quest for lifting heavier and wider block weights.
A brief demonstration :

Love it.


Checking Out : To the Last Breath – A Memoir of Going to Extremes
Looks great.
This morning I stumbled across To the Last Breath – A Memoir of Going to Extremes, and I must admit, it looks like a particularly interesting and unusual read. The goal alone is truly impressive :
Physicist Francis Slakey committed himself to climbing the highest peak on every continent and surfing every ocean.
This is a glimpse at that incredible goal, and the various challenges he encountered along the way.
Good stuff.


Quick update on the superb Fixing Elbow Pain we mentioned recently. Suffice to say that if you've ever experienced conditions like Tennis Elbow or Golfer's Elbow, it's essential reading.
Love it.


Exercise of the Week : The Strongman Crunch
Although direct ab work isn't high on my list of 'things I enjoy doing', this variation occasionally sees its way in to my routines. The somewhat uncommon Strongman Crunch.



---
Incidentally, if you'd like to get in touch regarding this or any other aspect of strength, you can send me an email here. Look forward to hearing from you.


Free Straight to the Bar eBooks
As a Strength & Fitness Newsletter subscriber you get several great eBooks, absolutely free. Just head over here, save them to your hard-drive, and dive in.
Good stuff.
NB : This is an ever-changing list of books. If you'd like to put your own work in front of a fantastic strength-focussed audience, let me know.