This Week on Straight to the Bar
I'm constantly amazed at just how much my training is influenced by the people on this site. Whether you're looking for a new piece of equipment, an unusual exercise variation or just an idea of how others approach things, you'll enjoy these :
Ready to add your own opinion, workout log or training article? Just head over to the Forums, Training Logs, or swing by the Article Submissions page. They're fantastic ways to share your ideas.
Video : Kettlebell Jerk Tutorial (Side View)
Very interesting indeed.



Gymchat 140 – How Do You…III
One of the many fascinating aspects of strength-training is that everyone has a slightly different approach; based on their own goals, available equipment and information. Love it.
This week we'll be returning to our discussion on training approaches, focusing on the many aspects of fitness other than the lifting itself. What's your current diet like, and do you take any supplements? What sort of music do you listen to whilst training, or do you prefer to lift in silence? Other than getting a good nights' sleep, how do you recover after a heavy session?
However you train, we'd love to hear about it. Join us for How Do You … III. Fantastic.


Details –
Who : Strength-training fans
Topic : How Do You … III
When : Wed Oct 19, 9pm EDT (1am UTC)
How : Post a comment, question or reply
URL : https://plus.google.com/u/0/113406428532094481598/posts/HU5qTrK8zf1
If you've never been to one of these discussions before, here's how to join in the fun. Simple, quick to set up and free.
And to see when it's on in your timezone, head over to the calendar.
See you there.


Quick update on last week's gymchat : Thanks once again to everyone who took part in the discussion on Hand Strength II : Grip Work. Some superb ideas in there.
For those who missed out on the conversation, here's the transcript. Was a great one.


Tip of the Week: Minimising Wrist Pain in Olympic Lifting
Each week we publish a number of tips and techniques via twitter, Google+, the forums, the blog; and now the newsletter. Wherever you are, there's always a way to improve what you're doing.
This tip comes to use from Lane Hagen, and was a comment posted on the 'World Record Front Squat' piece. Great advice.
---
On 'World Record Front Squat', in response to the comment :
I use the clean position. I find it's the only way that seems secure to me. Although lack of flexibility in my wrists causes crazy pain with high weight. I am still kinda new to the movement. Maybe practice will help.


From Lane :
Hold it in the clean position and always focus on pushing your elbows up. You can also just do it using 2 fingers till you gain the flexibility. Put a bar on a rack and stretch in that position before you load up. If your wrists are getting really sore it's probably your triceps and forearms that aren't flexible enough and they are putting unnecessary strain on your wrist. Go light 'til you can keep your elbows up.


Good stuff.


Reading : Experiments with Intermittent Fasting
If the interview with Vic Magary got you intrigued about Intermittent Fasting (IF), then this free book will fill in the blanks. It's a great read.
'Experiments with Intermittent Fasting' is a collaboration between Dr John Berardi, Dr Krista Scott-Dixon and Nate Green. The book looks at what Intermittent Fasting is all about, what the benefits can be and the results of a little experimentation. Very interesting indeed.
Over to you. For anyone who's tried it, I'd love to hear your thoughts. Did it/does it work in your case?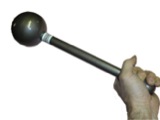 Quick update on the StrongerGrip Loadable Club Set we noted a while ago : I had a great discussion recently on club workouts for beginners. Great way to train.
When it came to the equipment part of the discussion, we both agreed on the loadable clubs from StrongerGrip. 3lb empty and around 8lb loaded up. Beautiful things.


Exercise of the Week : One-Armed Barbell Row
As noted in the original post, Mike does some very creative stuff in his workouts. Here he is performing the One-Armed Barbell Row. Great idea.

---
Incidentally, if you'd like to get in touch regarding this or any other aspect of strength, you can send me an email here. Look forward to hearing from you.


Free Straight to the Bar eBooks
As a Strength & Fitness Newsletter subscriber you get several great eBooks, absolutely free. Just head over here, save them to your hard-drive, and dive in.
Good stuff.
NB : This is an ever-changing list of books. If you'd like to put your own work in front of a fantastic strength-focussed audience, let me know.
Time for Some New Gear? Here's What to Get, and How to Use It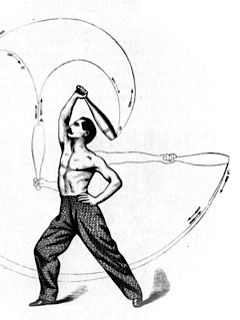 Thanks to everyone who's sent in feedback (via email, Facebook and Twitter) about the Straight to the Bar Guides – it's greatly appreciated.
For everyone who hasn't seen them yet, the Guides will help you decide what to get (and where), and how to train with it. There's some great information in there.