This Week on Straight to the Bar
I'm constantly amazed at just how much my training is influenced by the people on this site. Whether you're looking for a new piece of equipment, an unusual exercise variation or just an idea of how others approach things, you'll enjoy these :
Ready to add your own opinion, workout log or training article? Just head over to the Forums, Training Logs, or swing by the Article Submissions page. They're fantastic ways to share your ideas.
NB : I'd love to hear your thoughts. Leave a comment beneath the article itself, and share your views with the fantastic strength-training community. Cheers.
Video : 97lb Stacked Kettlebell Press For Reps
More training goodness from Mike Mahler, this time in the form of some Stacked Kettlebell Presses. Nice one.



Twitterchat 113 – Sports Injuries
Injuries are unfortunately a fact of life, particular on the playing field.
This week we'll be discussing many of the common injuries people get whilst enjoying their favourite sport – whether they're professional athletes or not – and how to deal with / minimise them. Helping us explore this fascinating topic is none other than Alpha Kettlebell's Troy Anderson (@troyATS). Fantastic.


Details –
Who : Strength-training fans
Topic : Sports Injuries
When : Wed Apr 13, 9pm EDT (1am UTC)
How : Include #sbgym in your tweets.
If you've never been to one of these twitterchats before, here's how to join in the fun. Simple, quick to set up and free.
And to see when it's on in your timezone, head over to the twitterchat calendar.
See you there.


Quick update on last week's twitterchat : Thanks once again to everyone who took part in the discussion on Outdoor Training. Some superb ideas in there.
For those who missed out on the conversation, here's a brief summary. Was a great one.


Looking Forward To : Super Human Workshop
This looks superb.
If you're ready to learn about becoming seriously strong, check out the Super Human Workshop. Taking place on April 15-17 in San Jose, California, this is a fantastic way to learn the real tools of the trade. Featuring presentations by trainers Bud Jeffries and Logan Christopher – certainly no slouches when it comes to physical culture and brutal old-time skills – the Super Human Workshop combines mental toughness with physical performance to help create obscene levels of strength.
Really looking forward to this one – it's a perfect blend. The Super Human Workshop.


Quick update on the Beast Sled : Two weeks ago we noted the Beast Sled; beautiful thing.
If you haven't ordered yours yet, swing by the The Beast Sled site and check them out. I'd love to hear what you think.


Exercise of the Week : Horizontal Rope Climbing
During the week a friend of mine asked me about Horizontal Rope Climbing (no doubt after watching Charles Bronson in The Great Escape). Good fun.


If you've never tried this, the picture above (some of the highly creative training at The Ice Chamber) will show you how. Grab a length of rope and a low trolley – this sort of thing – and go to work. A particularly fun way to train, and far more difficult than it looks. Enjoy.
---
Incidentally, if you'd like to get in touch regarding this or any other aspect of strength, you can send me an email here. Look forward to hearing from you.


Free eBooks from Straight to the Bar
As a Strength & Fitness Newsletter subscriber you get several great eBooks, absolutely free. Just head over here, save them to your hard-drive, and dive in.
Good stuff.
NB : This is an ever-changing list of books. If you'd like to put your own work in front of a fantastic strength-focussed audience, let me know.
Time for Some New Gear? Here's What to Get, and How to Use It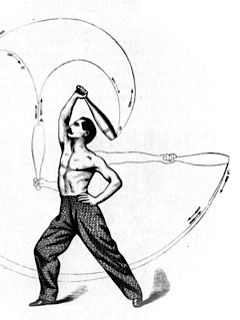 Thanks to everyone who's sent in feedback (via email, Facebook and Twitter) about the Straight to the Bar Guides – it's greatly appreciated.
For everyone who hasn't seen them yet, the Guides will help you decide what to get (and where), and how to train with it. There's some great information in there.