This Week on Straight to the Bar
I'm constantly amazed at just how much my training is influenced by the people on this site. Whether you're looking for a new piece of equipment, an unusual exercise variation or just an idea of how others approach things, you'll enjoy these :
Ready to add your own opinion, workout log or training article? Just head over to the Forums, Training Logs, or swing by the Article Submissions page. They're fantastic ways to share your ideas.
NB : I'd love to hear your thoughts. Leave a comment beneath the article itself, and share your views with the fantastic strength-training community. Cheers.
Video : DIY Pinch Grip Apparatus
More DIY goodness, this time in the form of a 115lb pinch grip apparatus. Love it.



Twitterchat 112 – Outdoor Training
I love training outdoors. Hot or cold, wet weather or not. Always fun.
This week we're discussing the many ways to get at least part of your training outside, and the benefits of doing just that. Helping us explore this fascinating topic is none other than USA Jungle Gym's Daniel Lapic (@mantis77). Fantastic.


Details –
Who : Strength-training fans
Topic : Outdoor Training
When : Wed Apr 6, 9pm EDT (1am UTC)
How : Include #sbgym in your tweets.
If you've never been to one of these twitterchats before, here's how to join in the fun. Simple, quick to set up and free.
And to see when it's on in your timezone, head over to the twitterchat calendar.
See you there.


Quick update on last week's twitterchat : Thanks once again to everyone who took part in the discussion on Making the Most of Your Gym Time II. Some superb ideas in there.
For those who missed out on the conversation, here's a brief summary. Was a great one.


Checking Out : Foam Roller Workbook
Whether you're recovering, stretching or managing pain, the foam roller is your friend. Great thing.
The Foam Roller Workbook is a detailed look at using this deceptively simple piece of equipment. No matter how the roller fits in to your own training regime, this book will show you exactly what to use; and how. Very comprehensive.
The book comes out in hardcover form on June 1st, and a little before that for the digital version. Looking forward to it.


Quick update on the Beast Sled : Last week we noted the Beast Sled; beautiful thing.
If you haven't ordered yours yet, swing by the The Beast Sled site and check them out. I'd love to hear what you think.


Exercise of the Week : The Zottman Curl
Long-term readers may recall the discussion on Philadelphia strongman George Zottman, and the exercise which bears his name – The Zottman Curl. A somewhat uncommon, though incredibly effective movement.
This is a dumbbell bicep curl with a twist – quite literally. The weight is curled using the standard supinated (palm facing up) grip, with the wrist angled back slightly so as to make the bicep do all the heavy lifting. At the top of the curl the wrist is straightened and the hand rotated 180 degrees, before being slowly lowered to the start position. The hand is then rotated 180 degrees and the cycle begins again.


This movement succeeds in working both the biceps and forearms, and is a great way to warm up the entire arm. Here it is in action :

Great exercise.
---
Incidentally, if you'd like to get in touch regarding this or any other aspect of strength, you can send me an email here. Look forward to hearing from you.


Free eBooks from Straight to the Bar
As a Strength & Fitness Newsletter subscriber you get several great eBooks, absolutely free. Just head over here, save them to your hard-drive, and dive in.
Good stuff.
NB : This is an ever-changing list of books. If you'd like to put your own work in front of a fantastic strength-focussed audience, let me know.
Time for Some New Gear? Here's What to Get, and How to Use It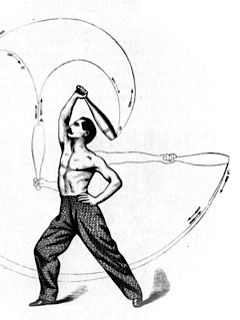 Thanks to everyone who's sent in feedback (via email, Facebook and Twitter) about the Straight to the Bar Guides – it's greatly appreciated.
For everyone who hasn't seen them yet, the Guides will help you decide what to get (and where), and how to train with it. There's some great information in there.