This Week on Straight to the Bar
I'm constantly amazed at just how much my training is influenced by the people on this site. Whether you're looking for a new piece of equipment, an unusual exercise variation or just an idea of how others approach things, you'll enjoy these :
Ready to add your own opinion, workout log or training article? Just head over to the Forums, Training Logs, or swing by the Article Submissions page. They're fantastic ways to share your ideas.
NB : if you enjoy the articles, show the authors your appreciation by voting (using the 'Like' button beneath each post). Cheers.
Video : Increase Your Push-up Volume
Smitty, there are some superb tips in this video. Nice one.



Twitterchat 102 – Odd Object Training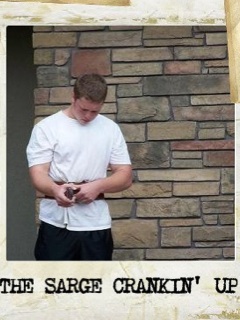 Heavy, awkward, off-centre : this is my kind of training. Good fun.
This week we're taking a close look at Odd Object Training, in any form, anywhere. Everything from 'what it is' to 'filling kegs with sand, water and other fun things'. Helping us explore this fascinating topic is none other than Kevin 'Sgt Sweaty' Miller (@SgtSweaty). Fantastic.


Details –
Who : Strength-training fans
Topic : Odd Object Training
When : Wed Jan 26, 9pm EDT (1am UTC)
How : Include #sbgym in your tweets.
To see when it's on in your timezone, head over to the twitterchat calendar.
See you there.


Quick update on last week's twitterchat : Thanks once again to everyone who took part in the discussion on Auxiliary Olympic Lifts for Core Strength. Some superb ideas in there.
For those who missed out on the conversation, I'd love to hear your thoughts. How do you learn Olympic Lifting? Can you teach yourself, or would you recommend hiring a trainer or joining a group?


Looking Forward To : The Body in Motion
This looks great.
In The Body in Motion: Its Evolution and Design, Theodore Dimon takes a look at our incredible construction. Much more than a humble anatomy book, this examines not only how various body systems work but combine to accomplish whatever task is required.
If you've ever wondered just what happens when you lift/drag/carry something – and how to refine that process as much as possible – this book will show you precisely.
Available tomorrow.


Exercise of the Week : Slosh Pipe Zercher Carry
During the twitterchat last week we noted the ever-challenging Slosh Pipe – great bit of home-made gear.
Here are just a few ways to use this incredible tool, including my own favourite : the Slosh Pipe Zercher Carry. Good fun, and a whole lot harder than it looks.

Enjoy.
NB : if you're thinking 'this looks cool, how do I make one', swing by this article :
How To Make an Adjustable Slosh Pipe
Step by step.
---
Incidentally, if you'd like to get in touch regarding this or any other aspect of strength, you can send me an email here. Look forward to hearing from you.


Free eBooks from Straight to the Bar
As a Strength & Fitness Newsletter subscriber you get several great eBooks, absolutely free. Just head over here, save them to your hard-drive, and dive in.
Good stuff.
NB : This is an ever-changing list of books. If you'd like to put your own work in front of a fantastic strength-focussed audience, let me know.