This Week on Straight to the Bar
I'm constantly amazed at just how much my training is influenced by the people on this site. Whether you're looking for a new piece of equipment, an unusual exercise variation or just an idea of how others approach things, you'll enjoy these :
Ready to add your own opinion, workout log or training article? Just head over to the Forums, Training Logs, or swing by the Article Submissions page. They're fantastic ways to share your ideas.
NB : if you enjoy the articles, show the authors your appreciation by voting (using the SU and Twitter icons beneath each post). Cheers.
Video : Double Overhand Axle Power Shrugs
Love a spot of yoke work? Same here.



Twitterchat 98 – Improving Your Client's Success
There are many ways to set your training-related goals – whether they're goals for a particular competition or overall fitness goals for the year. To lift this much, run that far, beat that time and so on.
This week we're taking a look at a spot of goal-setting, and several other elements that make up a client's success. Behaviour change models, motivation etc; from both the athlete's and the trainer's point of view. Helping us explore this fascinating topic is none other than Food and Fitness's Anthony Paradis (@foodnfitness). Fantastic.


Details –
Who : Strength-training fans
Topic : Improving Your Client's Success
When : Wed Dec 29, 9pm EDT (1am UTC)
How : Include #sbgym in your tweets.
To see when it's on in your timezone, head over to the twitterchat calendar.
See you there.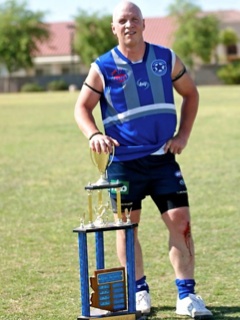 Quick update on last week's twitterchat : Thanks once again to everyone who took part in the discussion on Training for Football : AFL. Some superb ideas in there.
For those who missed out on the conversation, I'd love to hear your thoughts. Ever tried a little Australian Rules football?


Considering : Equipment for the Home Gym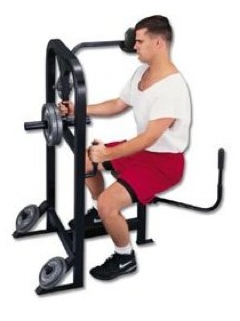 I love the home gym – it's the perfect place to get away from everything for a while, and focus on building a stronger, faster, fitter me. Good fun.
Looking around, I'm certainly not the only one. If you're in the market for a bit of equipment (whether you're just setting up the gym, or adding to the one you've already got), take a look around places such as the Exercise & Fitness
area on Amazon. Some very interesting ideas in there.
One item that caught my eye is this neck-training machine. Personally, I'm a fan of the neck harness approach, but I'm curious : has anyone here used a machine such as this?Thoughts?


Exercise of the Week : Swinging the Swingball
The Swingball (a custom piece – video here) is a fantastic thing, and perfect for this exercise (although a kettlebell also works extremely well). Just attach it to a length of thick rope and go.
This video will show you exactly what I mean.

Love it.
---
Incidentally, if you'd like to get in touch regarding this or any other aspect of strength, you can send me an email here. Look forward to hearing from you.