This Week on Straight to the Bar
I'm constantly amazed at just how much my training is influenced by the people on this site. Whether you're looking for a new piece of equipment, an unusual exercise variation or just an idea of how others approach things, you'll enjoy these :
Ready to add your own opinion, workout log or training article? Just head over to the Forums, Training Logs, or swing by the Article Submissions page. They're fantastic ways to share your ideas.
NB : if you enjoy the articles, show the authors your appreciation by voting (using the Like, Digg and Retweet icons). Cheers.
Video : Standing Odd-shaped Tyre Press
205lb of home-made fun. Love it.



Twitterchat 89 : Setting Up a Strength Training Facility
It happens to many of us at some point – a desire to create our own gym. Whether that's a home gym, a shared training space or something a little more commercial – it's definitely a worthy goal.
This week we're focusing on the commercial side of things, whether that's a roomful of machines or something a little more hardcore. Whatever form it takes, we'll be talking about it in Setting Up a Strength Training Facility. Helping us explore this fascinating topic is none other than Body by D-Rock's Derek Peruo (@bodybydrock). Fantastic.


Details –
Who : Strength-training fans
Topic : Setting Up a Strength Training Facility
When : Wed Oct 27, 9pm EDT (1am UTC)
How : Include #sbgym in your tweets.
To see when it's on in your timezone, head over to the twitterchat calendar.
See you there.


Quick update on last week's twitterchat : Thanks once again to everyone who took part in the discussion on Incorporating Fitness into a 'Normal' Life. Some superb ideas in there.
For those who missed out on the conversation, I'd love to hear your thoughts. Do you train at work – perhaps in your lunch break? In a local facility or a work gym?


Looking Forward To : EA Sports Active 2.0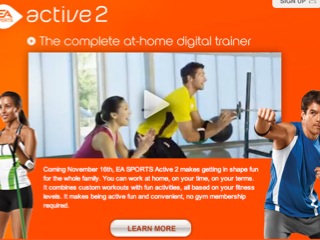 Although this variety of fitness video game mix isn't exactly 'there' yet (I'd love to see much more emphasis on strength-training for one), I'm keen to have a good look at this offering.


Quite apart from the fact that it encourages people to move (always a great thing), it seems to be flexible in terms of defining a custom program. A question for all the strength coaches and personal trainers out there : would you see value in using something like this (if customisable) with your online clients? What sort of feedback (heartrate, times etc) would you need?
If you're similarly keen to take a look at EA Sports Active 2.0, it'll be released on Nov 16, 2010.


Exercise of the Week : The Floor Press
This is a great way to work on the middle of your bench press action; eliminating the 'bounce' and reducing the load on the shoulders. Great exercise.
As the name suggests, this is simply a bench press performed whilst lying on the floor. This position limits the range of motion (your arms can't move back as far, as they're stopped by the floor), and means that the bottom of a Floor Press is actually toward the middle of a typical Bench Press. It feels quite different.
Here's a quick video demonstration. Note that the Floor Press can be modified with the usual array of bands, chains and weight releasers; or make use of equipment such as dumbbells, kettlebells, clubs and hammers.



Good fun.