On the Forums
Hope you had a great Easter.
As you can see, the forums aren't available just at the moment (I'm upgrading the software), but should be back to normal shortly.
In the meantime, here are a couple of items from the archives that are well worth another look :
NB : if you like what you see, show the authors your appreciation by voting (click on the 'tweet' image above each article). Cheers.
Video – Steve Maxwell: The Spartacus Log Lift
This lift was seen many years ago in the film Spartacus, and is essentially a Turkish Get-Up with a log.
Fantastic.

Stocking the Home Gym : Bars, Plates, Hooks & Collars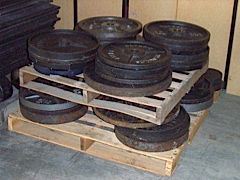 Work in the home gym continues.
This week we're taking another look at a few staple ingredients, specifically Bars, Plates, Hooks and Collars.
Enjoy.


Coming Events
Twitterchat 60 – The Importance of Mental Strength When Training : It's incredible how much of an impact your state-of-mind has on your training. A little mental toughness goes a long, long way.
This week we're diving into the world of Mental Strength, and its Impact on Training – what it is, why it's essential, and how to get it. Everything you'll need to keep those PRs coming regularly.
Helping us to navigate this fascinating area is Strong Body, Stronger Mind's Leisl (@missleisl). Fantastic.


Details –
Who : Strength-training fans
Topic : The Importance of Mental Strength When Training
When : Wed Apr 7, 9pm EST (1am UTC)
How : include #sbgym in your tweets.
See you there.
Got an event that you'd like to add? Let me know.
Watching : Grip 'n' Rip DVD
This is absolutely superb. If you've ever wondered what the Bio-Feedback approach is all about, grab this.
The Grip 'n' Rip DVD.
Brilliant.


Exercise of the Week : Neider Press
This is a fantastic exercise.
I first saw a particularly creative variation (with a weighted bar held vertically) over on Ross Enamait's site, and it's since become a firm favourite.
Possibly named after strong-shouldered Bill Nieder, the Neider Press is a simple matter of moving a heavy object (typically a bar, but it could be anything) to arms' length and back. Repeatedly.
Here's a quick clip to give you an idea of what I mean.

NB : there are many, many ways to vary this exercise – changing the angle, weight, time etc. Experiment.