On the Forums
I'm constantly amazed at just how much my training is influenced by the people on this site. Whether you're looking for a new piece of equipment, an unusual exercise variation or just an idea of how others approach things, head over to the forums :
Ready to add your own workout log or training article? Just head over to the Articles & Logs page and log in, and click 'Post to Your Blog'. That's all there is to it.
NB : if you like what you see, show the authors your appreciation by voting (using the icons for Digg, StumbleUpon etc above each article). Cheers.
Video – Heavy Axle Front Squat
Use your axle for everything. Over to Warwick.

Deal of the Week – The StrongerGrip Swing Ball
This is a fantastic tool.
You may have seen the original version in use in one of Rocannon's videos, and the one pictured at left is the updated incarnation. Loadable, tough and brutal.
Love it.


Coming Events
Twitterchat 54 – Fat Loss : Looking to shed a little excess bodyfat? Get back your former shape, move down a weight division whilst staying strong, or show some definition perhaps.
This week we're diving into the world of Fat Loss – what it is, things that work and the way to tie it in to your training. Helping us to navigate this fascinating area is Jimmy Smith Training's, own @jimmysmithtrain. Fantastic.
Details –
Who : Strength-training fans
Topic : Fat Loss
When : Wed Feb 24, 9pm EST (1am UTC)
How : include #sbgym in your tweets (here's how)
To see when it's on in your timezone, head over to the twitterchat calendar.
See you there.
Got an event that you'd like to add? Let me know.
Reading : Strength Training Anatomy
As Josh explains, it superbly shows what's going on while you train.
Exercise of the Week : The Bradford Press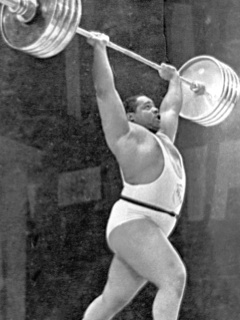 Named after weightlifter Jim Bradford, the Bradford Press (sometimes called the Rainbow Press) is one of the first shoulder exercises I added to my routines. And once you try it, you'll understand why.
From the original article :
The exercise looks similar to a Military Press, except that the weight is moved in an arc from in front of the head to behind it; and back again. This manages to work all parts of the deltoids, as well as giving the forearms something to think about. An unusual, but highly effective, movement.
As with a number of fairly uncommon exercises, a brief video demonstration also goes a long way :

Nice one.