On the Forums
I'm constantly amazed at just how much my training is influenced by the people on this site. Whether you're looking for a new piece of equipment, an unusual exercise variation or just an idea of how others approach things, head over to the forums :
Ready to add your own workout log or training article? Just head over to the Articles & Logs page and log in, and click 'Post to Your Blog'. That's all there is to it.
NB : if you like what you see, show the authors your appreciation by voting (using the icons for Digg, StumbleUpon etc above each article). Cheers.
Video – Reverse Turkish Getup
Looking for a little variety in your kettlebell training? Throw in a Reverse TGU or two. Good stuff.

Deal of the Week – Second-hand Gym Gear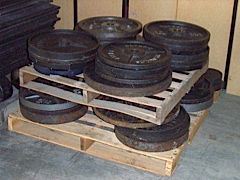 This is a great time of year for hitting the garage sales, and stocking up the home gym. Good fun.
Over the next few weeks we'll be looking at tips and techniques to consider when it comes to 'reclaiming' some of the gear. In the meantime, keep an eye out for the following (and grab it as soon as you find it, you won't be the only one looking) :
used plates, both Standard and Olympic
fixed weight dumbbells
kettlebells (a rare find, but grab them when you see them)
Things to avoid (second-hand, that is) :
Personally, I avoid anything that could snap or break without warning; equipment with cables or straps. I also avoid buying second-hand bars, as it's impossible to know the age, strength, and difficult to spot subtle bends.
How about you – are you a fan of second-hand gear, and what sort?
Coming Events
Twitterchat 46 – Z-Health : Despite having first read about Z-Health more than 3 years ago (in this interview with Dr Eric Cobb), I didn't start including the concepts into my own training until fairly recently. Pity, because it's absolutely fantastic.
This week we're chatting about Z-Health : what it is, and how to incorporate it into your routines. Aiding us in this is none other than Z-Health Master Trainer, Mike T Nelson. Fantastic.


Details –
Who : Strength-training fans
Topic : Z-Health
When : Wed Dec 30, 9pm EST (1am UTC)
How : include #sbgym in your tweets (here's how)
To see when it's on in your timezone, head over to the twitterchat calendar.
See you there.
Got an event that you'd like to add? Let me know.
Exercise of the Week : Front Plate Raise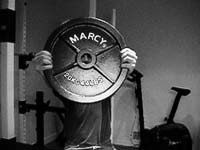 This is about as simple as they come; all you'll need is a plate.
To perform the exercise :
The movement itself really is as simple as the name suggests. Grab a plate by the sides (angled down a bit, as if driving a bus) and straighten your arms in front of you. Raise it until you're looking through the hole, and lower it again. That's it.
Beautiful.