On the Forums
I'm constantly amazed at just how much my training is influenced by the people on this site. Whether you're looking for a new piece of equipment, an unusual exercise variation or just an idea of how others approach things, head over to the forums :
Ready to add your own workout log or training article? Just head over to the Articles & Logs page and log in, and click 'Post to Your Blog'. That's all there is to it.
NB : if you like what you see, show the authors your appreciation by voting (using the icons for Digg, StumbleUpon etc above each article). Cheers.
There are several great varieties of the Harness Squat, including this.
Enjoy.

Deal of the Week – Plyometric Box Set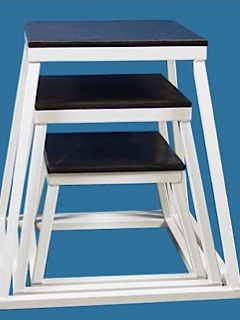 I love buying stuff at Amazon, and strength-training gear is certainly no exception. There are some great discounts at this time of year.
One of the things that caught my eye recently is this set of plyo boxes
(pictured at left), which are ideal for the many varieties of jump training. Love 'em.


Coming Events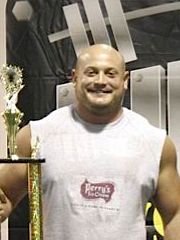 Twitterchat 43 – Techniques for Strongman Competitions : I love Strongman competitions – it's a brilliant way of putting obscene levels of strength to the test. Good fun.
This week we're discussing the various techniques involved in the many Strongman events – where to grip it, how to position yourself and so on. Helping us navigate this fascinating world is Strongman Mike Gill. Fantastic.
Details –
Who : Strength-training fans
Topic : Techniques for Strongman Competitions
When : Wed Dec 9, 9pm EST (1am UTC)
How : include #sbgym in your tweets (here's how)
To see when it's on in your timezone, head over to the twitterchat calendar.
See you there.
Super Gym's Deadlift Competition, and The Wolf Games : Deadlifting at Benedikt Magnusson's Super Gym, Iceland. Need I say more?
Fantastic.
Got an event that you'd like to add? Let me know..
Exercise of the Week : Anconeus Sidekick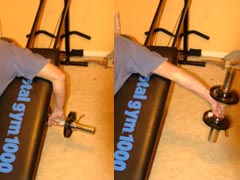 Long-time readers of this site may remember the Anconeus Sidekick, a triceps exercise which is rarely seen these days in commercial gyms.
From the original article :
The Anconeus is the oft-forgotten 4th elbow extensor. To perform the sidekicks, kneel down beside a bench and use it to support your upper arm. Move your upper arm so that it's at right angles to your torso (and parallel to the floor), with your forearm hanging straight down. Pick up a dumbell with a pronated grip (point your thumb down), and raise your forearm to horizontal (your upper arm won't move).
Great addition to the tricep-training arsenal.