On the Forums
I'm constantly amazed at just how much my training is influenced by the people on this site. Whether you're looking for a new piece of equipment, an unusual exercise variation or just an idea of how others approach things, head over to the forums :
NB : Ready to add your own workout log or training article? Just head over to the Articles & Logs page and log in, and click 'Post to Your Blog'. That's all there is to it.
Video – How To Use Your FP Gripper
Remember Mighty Joe Musselwhite's FP Gripper? Yep, it's here. Looks fantastic.

Deal of the Week – 30% off Ultimate Sandbag kits
I love the Ultimate Sandbag. Brilliant thing.
For the next 24 hours* Josh Henkin has agreed to provide several of the most popular kits at a whopping 30% discount to readers of this newsletter. Whether you're stocking a commercial gym or simply ready to get in the best shape of your life, why not take this opportunity to grab one at a greatly reduced price.
Highly recommended.
* offer ends 10pm EST on 27 October 2009.


Coming Events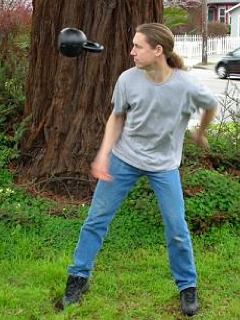 Twitterchat 37 – Kettlebell Juggling : If you love kettlebell work as much as I do, chances are you've thought about kettlebell juggling at one point or another. And yes, it's great fun.
This week we're going to take a close look at this fantastic activity, with the help of Legendary Strength's Logan Christopher. Exactly how to get started, what you need and where to go for help.
Fantastic.
Details –
Who : Strength-training fans
Topic : Kettlebell Juggling
When : Wed Oct 28, 9pm EST (1am UTC)
How : include #sbgym in your tweets (here's how)
To see when it's on in your timezone, head over to the twitterchat calendar.
See you there.
NB : if you'd like to be a guest on an upcoming chat, get in touch. It's always great to discover how other people are training.
Card Tearing Contest : a spot of card tearing perhaps? Now this one will be fun. Find out why.
Got an event that you'd like to add? Let me know..


Exercise of the Week : Prasara Hurlies
If burpees get you breathing hard, try a few Prasara Hurlies. Good fun.