Video – EFS Underground Strength Sessions


A look at the EliteFTS guys in action. Warning : you may just feel like training immediately afterward. Good stuff.
The Unorthodox Method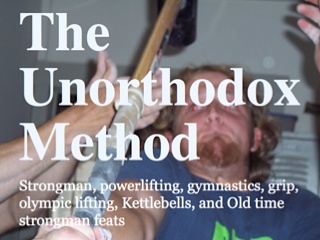 The Unorthodox Method is Zach Coulter's look at Strongman, grip training, gymnastics and other fun things. A great read.


Got a site, event or product you'd like to recommend? Drop us a line.
This week we take a brief look at Linebacker Fitness.
Recently I've been sampling Vince Palko's Linebacker Fitness – a product designed specifically to 'get you fit as a middle linebacker'.
I'll write up a thorough review later in the week, but just briefly :
Linebacker Fitness makes use of a simple, commonly underused excercise which certainly gets the blood pumping – jumping rope.
Although the jump rope is frequently restricted to warm-ups or not used at all, it can be incredibly effective when used as a major part of a training routine itself.
Linebacker Fitness outlines a number of superb rope exercises, as well as providing a complete, integrated program. Good stuff.